Sports Science
Educator & Presenter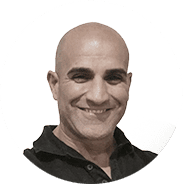 Ziad, affectionately known as Zak, is the Vice Principal at the Frank Dando Sports Academy in Melbourne, a school for boys who are highly intelligent but whose experiences with bullying, violence, lack of confidence and symptoms of ADHD have seen them drop out of traditional learning institutions. In most cases, after two years of intensive education and training at the Academy, the boys can successfully return to mainstream schools. Zak and the school's remarkable work featured on Channel Nine's 60 Minutes program in 2012 (watch here).
In his role as an Accredited Exercise Physiologist, Zak specialises in rehabilitation for musculoskeletal injuries, obesity, diabetes and cardiovascular disease. With more than 25 years experience in the fitness industry, and over 15 years teaching at schools and universities, Zak is an integral member of ACE's coaching faculty.
As a martial artist, Zak has over 35 years experience and has won several world titles under the International Sports Karate Association, in the areas of weaponry, free forms and full contact fighting.
Zak's qualifications and certifications include MEd. BAppSc (Human Movement & Psychology); Grad Dip. Sec. Ed; Accredited Exercise Physiologist (ESSA); 4th Dan Black Belt Zen Do Kai Karate; Registered Boxing and Kickboxing Trainer; and Gold Medallion Surf Life Saving Australia.