Strength & Conditioning
Educator & Presenter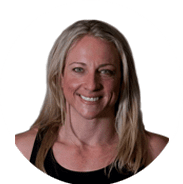 Lauren is an experienced coach and personal trainer, and a course presenter with a natural talent for educating and inspiring people. After working for a decade in the financial sector, she decided to leave the spreadsheets and software behind to follow her passion for teaching people how to live better lives through training and nutrition.
Before qualifying as a certified personal trainer, Lauren experimented with a variety of training methodologies for her own health and fitness. From cardio, kickboxing and Bodybuilding, to German volume training, Olympic Lifting and CrossFit, she made it her mission to explore the wide world of strength and fitness. In between these she'd tackle the odd half marathon while pondering her next move.
Lauren's qualifications and certifications include REPS 2 & 3 (UK qualification); CrossFit Level 1 Certification; and ASCA Strength & Conditioning Coach Certification. With multiple national and world records in Powerlifting to her name, Lauren is living proof that anything is possible if you are willing to put in the time and make sacrifices to achieve the things you truly want.