Head of Exercise & Sports Science Educator & Presenter​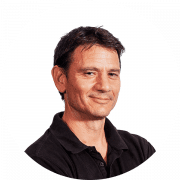 One of Australia's most credentialed sports scientists, Luke is an experienced educator and researcher dedicated to developing programs that enhance human performance.
The co-creator and presenter of ACE's continuing education programs for fitness professionals, exercise physiologists and strength and conditioning coaches, he also conducts seminars on a wide range of other topics relating to health, exercise and wellness..
As an established exercise physiologist, Luke combines the prescription of clinical exercises and lifestyle programs to enhance the recovery and wellbeing of clients who come to him for rehabilitation.
A highly experienced corporate health and wellness exercise physiologist, he has over 10 years practical experience working in corporate health, primary care and occupational rehabilitation environments, during which time he has conducted over 500 Workplace Health Assessments.
Luke's extensive qualifications include PhD. Sports Science; MSc. (Exercise Science); Post Grad. Dip (Exercise Rehabilitation); Post Grad.Cert (Diabetes Education & Management); BSc. (Exercise Science & Nutrition).
His additional credentials include Accredited Sport Scientist (ESSA); Accredited Exercise Physiologist (ESSA); Diabetes Nurse Educator; Accredited Massage Therapist (AAMT); and Associate Nutritionist (NSA).