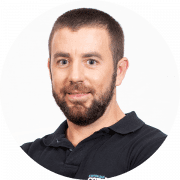 David, a highly experienced martial arts and fitness professional with over ten years of experience in the industry. He started his martial arts journey under the guidance of Mick Spinks, a pioneer of kickboxing and mixed martial arts in Australia. He then spent the last eight years being coached and mentored by Hays Daewoud, the Founder and Director of ACE Martial Arts, with over 25 years of experience in the martial arts world. For the past eight years, David has been a qualified Martial Arts Instructor, coaching both within his facility and for ACE Martial Arts.
In addition to his martial arts expertise, David also has over eight years of experience in the fitness industry, working as a Personal Trainer and Strength and Conditioning Coach. He is passionate about coaching and has worked with the general public as well as elite athletes. David has had the opportunity to coach several high-profile athletes, including Kimberley Green (former Sydney Swifts netballer and Australian representative), Casey Stevens (Australian swimmer), and the First Grade Sutherland Hockey Team.
David is also a Strength and Conditioning Coach to Tim Tszyu, Ella Boot, Bilal Akkawy, and several young, ambitious amateur boxers. His unique training methodologies and passion for combining combat sports and strength and conditioning have made him stand out from the rest of the industry. With his wealth of experience and knowledge, David is dedicated to helping athletes perform at their best within their chosen combat sport.